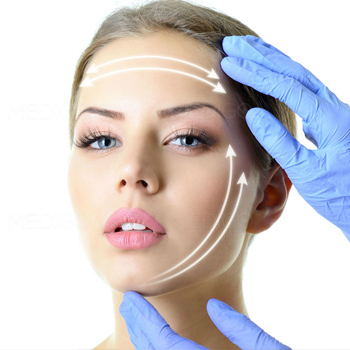 Facelift Surgery
Facelift  is a cosmetic surgical procedure used to reduce the visible signs of aging on your face by tightening the skin and deeper tissues.
Anesthesia is required for surgery. Your surgeon will determine the type of anesthesia administered.
Incisions are placed along the hairline. Your surgeon will explain exact placement of the incisions.
The loose skin is raised and underlying tissues are tightened.
Some fat may be suctioned.
Excess skin is removed.
Remaining skin is pulled and tightened.
Good candidates for a Facelift
You have deep lines and wrinkles in the face and neck.
You have loose, sagging skin in the cheeks and jawline.
You have deep folds in the creases between your nose and mouth.
You are in good physical and emotional health.
You have realistic expectations.
Your Facelift Consultation
During your initial consultation, you will meet with the plastic surgeon and staff. Your previous surgeries, your medical history, medications you are presently taking, and your overall physical and emotional health will be reviewed. Your skin quality will also be evaluated. Photographs may be taken for your medical record. Your surgeon will determine what you benefit from most and whether or not additional procedures will be necessary for you to achieve your desired results. Recovery time, risks and limitations associated with surgery will be also be discussed. The doctor's patient coordinator will review surgical costs and scheduling with you.